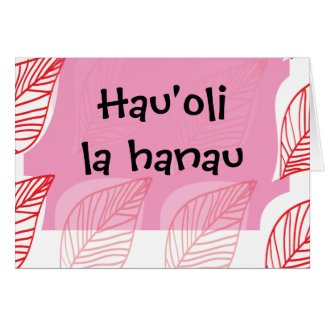 Hawaiian Birthday Card
By: Serendipity
Tags: birthday, card, colorful, customize, greeting, happy birthday, hau' oli la hanau, hawaii, hawaiian, language, pink, rozine

Category: Colorful, Graphic Art, Languages, Pattern
Pink Red White Love Hawaiian Funny Happy Birthday Card
by rozine
Inside (customizable):
Or, as they say in the rest of the States:
Happy Birthday!
Beautiful Hawaiian inspired design portrays a laid-back, casual look. Primary colors red, yellow and turquoise blue are perfect for those in love with the Caribbean, Hawaii and the tropics. Black text says "Hau'oli la hanau!" on the front. Inside reads "Or, as those in the rest of the States say: Happy Birthday!" This can easily be customized to your liking. Simply replace with "Thank You" if you'd like. Matching notecards, stickers, and t-shirts available with this (or similar) design. Look for it in other color combinations, too.