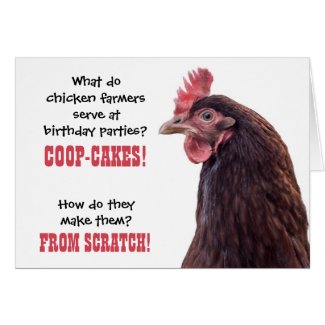 Coop Cake Birthday Card
By: Serendipity
Tags: birthday, card, chicken, countrycorner, customize, greeting, hen, joke, poultry, puns, rhode island red, RIR

Category: Chicken, Joke/Funny
Birthday Chicken Jokes with Hen Photo Card
by CountryCorner
Inside (customizable):
Who tells the best jokes?  Comedi-hens
Happy Birthday to an eggstra special friend
Here's a cute way to wish your chicken loving farmer friends a happy birthday! A close up color photograph showing the profile view of a common red hen usually raised for eggs (RIR – Rhode Island Red) with a couple cheesy, corny chicken jokes on the front and another inside. The text fields are editable so you can change the occasion if needed.