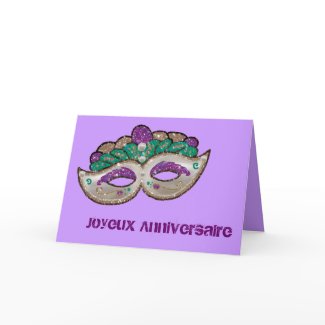 French / Cajun / Mardi Gras Birthday
By: Serendipity
Tags: birthday, cajun, card, cheyartist, fat tuesday, french, glitter, greeting, happy, joyeaux anniversaire, language, louisiana, mardi gras, me2, party, sparkle

Category: Masquerade Mask, Sparkly
Yes, I do know someone who has had their birthday land on Mardi Gras before…. and it was celebrated that day with king cake and beads for everyone even though we're a five hour drive from the carnival zone.   I know everyone involved had a blast because every single year it gets brought up again.
Bring some of the lassiez fair to your birthday guy/gal with this card of a mardi gras mask.   It says Joyeux Anniversaire  in French on the cover, and "in other words Happy Birthday" in the middle…. but this card can be fully customized from font to words and it won't hurt my feelings if you want to personalize it or add your own jokes or sayings.
This years date is Tuesday, February 21, 2012.    Next year:  Tuesday, February 12th, 2013.