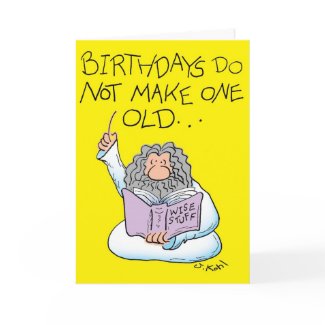 Wise Stuff Birthday Card
By: Serendipity
Tags: age, birthday, card, cartoon, funny, happy, hilarious, humor, old

Category: Fun, Joke/Funny, Old Age
It's the other 364 days that do it!
Wise Stuff Greeting Card by JoeKohl
One of life's little truths is exposed with this birthday card – it really is the days between that age us. But for our birthdays, with a little luck we can enjoy ourselves.  And for the worst curmudgeon, maybe crack a smile.