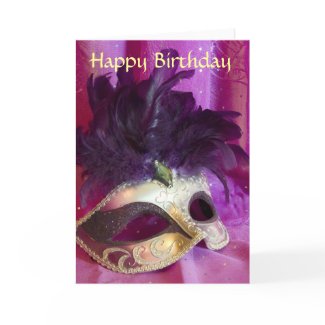 Purple Masquerade Mask Birthday Card
By: Serendipity
Tags: cards, crystals, decorated, decoration, feathers, gift, girly, glitter, gold, italian, italy, mask, masquerade, opera, photo, photograph, photography, photographybypixie, pink, purple, purple mask, sequins, unique, yellow

Category: Fun, Masquerade Mask, Photography, Sparkly
Just think of it — the drama, the glamour, the glitz, the bling!!!!  
Your birthday greetings could have it all with this purple masquerade mask with feathers and glitter.

And with a quick press of the customize button, you can add a personal message to your loved one before the card is shipped to you.
Colors can be changed, as well as the size  — you can even add your own pictures on both the front and back.
Matching and coordinated items are available.
One comment on "Purple Masquerade Mask Birthday Card"
Thank you for featuring my card here 🙂