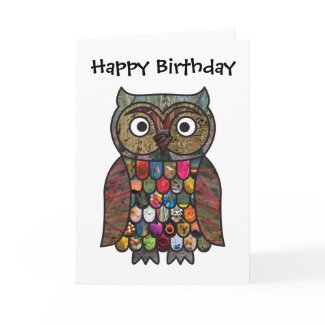 Patchwork Owl Birthday Card
By: Serendipity
Tags: animal, animals, art, artistic, birthday, birthday card, bright, cartoon, collage, colourful, cute owl, flower, flowers, gift, illustration, landscape, landscapes, owl, owl illustration, patch, patchwork, patchwork owl, photo, photo collage, photograph, photography, photographybypixie, still life, sunset, sunsets

Do something different this year —  maybe something like this cute patchwork collage owl illustration that has been pieced together from individual photographs of flowers, animals, landscapes, sunsets and still life.

And with a quick press of the customize button, you can add a personal message to your loved one before the card is shipped to you.
Colors can be changed, as well as the size  — you can even add your own pictures on both the front and back.