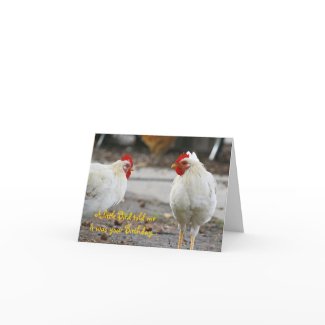 Belated Birthday Chicken
By: Serendipity
Tags: belated, birthday, cards, chicken, cute, funny, greeting, humorous, joke, michaelsnydermusic, rooster

Category: Chicken, Customizable, Joke/Funny, Photography
A Little Bird told me it was your birthday….
Unfortunately I'm a little late because that little bird
was a chicken and chickens are just about
the dumbest birds around.
Happy Belated Birthday!
Fully Customizable plus plenty of room for your own handwritten greeting! Check out other Greeting Cards & Photography by this artist too!