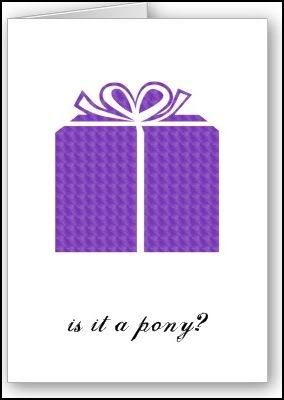 Is It A Pony?
By: Serendipity
Tags: birthday card, gift, happy birthday, humor, labkitty, nerd, offspring, pony, progeny, reality, sarcasm, snarky

Category: Uncategorized


Is it a pony?
No, it is not.
Customizable!
Birthdays offer an ideal opportunity to teach your child about the harsh realities of this mortal parade. Don't just give a present, give a lesson! But should you not wish to take this opportunity to stiffen your progeny, the card text can be changed to a less-Spartan missive. For example: Is is a pony? Yes, it is! LabKitty: always going the extra mile for you ™.
When I was setting up this blog originally I came across this card…. and it reminded me of a few people.  But it kept coming back to FRED!  I can just see him saying this and hear the inflections….  So have a happy birthday today, and enjoy the big party.  Hopefully some of  your wishes come true – my biggest impossible wish already did. 🙂