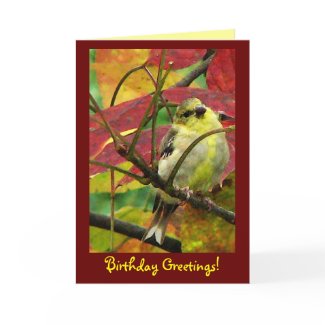 Goldfinch in Autumn Birthday Card
By: Serendipity
Tags: autumn, beautiful, bebops, bird, birthday card, colorful, fall, fauna, gold, goldfinch, happy, happy birthday, leaves, red, seasonal, trees, yellow

Category: Bird
This birthday card features a lovely little goldfinch perched on a branch, surrounded by brilliant autumn foliage. He is as small as the leaves of the ash tree and actually blends in to form an abstract composition of red, orange, green, yellow, black and white.
Inside: Wishing you joy on your special day
All text can be customized to suit your needs.
This beautiful card is going out to Girl Scout friend Laura.  Have a wonderful day!