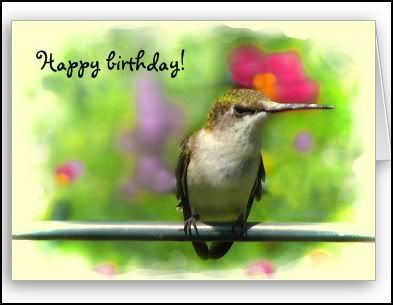 Hummingbird Birthday Card
This birthday card features a young ruby-throated hummingbird. He has not yet developed the ruby coloration on his throat. He is sitting on a metal bar, ready to dive into the nectar from the flowers surrounding him. The background is a soft, lovely palette of pink, red, gold, yellow and green. More hummingbirds are inside. You can customize the text to suit your needs.
This card was especially picked out in honor of Karen C., whose birthday is today.  (You go girl!) May you have something you've been daydreaming of today.