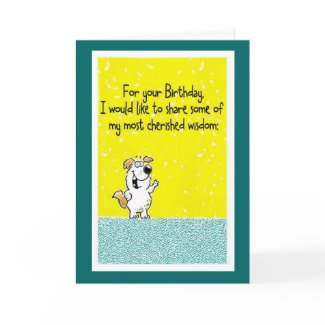 Birthday Wisdom Greeting Card
It's always nice to get good advice from those with more life experiences—isn't it?  Customize it!
Inside: Never hold in your farts, they travel up your spine and stop in your brain and… that's where crappy ideas come from.
One comment on "Birthday Wisdom Greeting Card"
I am honored to become a "Retro Feature". This is by far my most successful greeting card. I thank everyone who gives this little card a chance to make you smile. Happy Days of all kinds!