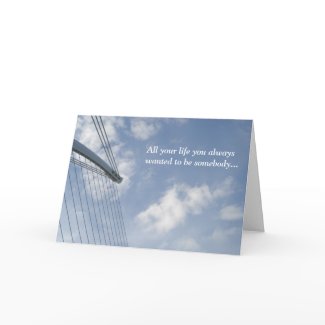 Bridge Spine and Cables Construction Birthday
All your life you always
wanted to be somebody…
Now you realize you should
have been more specific
Happy Birthday!
Samuel Beckett Bridge Engineering Design
This design shows a silver metal spire receding into the sky, supported by a number of cables running down to ground level from below it and above it.
The photograph was taken from the centre of a bridge in Dublin, Ireland at ground level looking upwards.
The beautiful bridge in Dublin, of which this visual element is part, is named after the famous Irish writer Samuel Beckett, connecting Dublin Docklands to the North of the City across the River Liffey.
Designed by the Spanish architect Santiago Calatrava, built in Holland, and shipped as a prefabricated structure by sea from Rotterdam to Dublin in 2009, there are other gifts in this gallery that show the complete bridge in all its spendor.
Easy to customize and personalize with your own message of congratulations, Happy Birthday, or celebration. Replace the funny quotation with your own message.
This tap out goes to Katie J., over in Germany…   😉